It's no secret that college is becoming more and more expensive, between tuition, room and board, fees, and textbooks. Many students are living off minimum wage jobs or participating in work-study programs, all while juggling full-time course loads. The last thing they should have to worry about is package theft.
Despite often being on a tight budget, GenZ consumers (aged 18 to 24) purchase more products online per year than any other demographic, spending around $2,000 annually, and they aren't showing any signs of slowing down.
This phenomenon poses a logistical nightmare for student housing centers. They are drowning in cardboard boxes full of textbooks, student care packages, and dorm room essentials, and need an effective solution to help streamline and simplify their package management processes.
Additionally, with busy class schedules, student housing staff must often have extended service hours to meet the time demands of their students' trying to retrieve packages. This can often lead to package pile ups if the students don't have time to stand in line or arrive during available staff hours.
Finally, these package pile ups create the potential for increased package theft and loss. As students depend on the timely arrive of their items, making sure the avalanche of deliveries remain safe and secure is of utmost importance.
What Student Housing In Cambridge Needed
Cambridge Oxford Student Housing sought to tighten package security without a lot of oversight, manual application, or maintenance. They wanted a system that worked smarter, not harder. They needed a high-quality intelligent locker that both performed well and looked sharp, designed by a company with extensive residential market experience and credibility.
When considering the user experience, Cambridge looked to answer several questions. Were the lockers intuitive and user-friendly? Would both residents and carriers actually use the system? After seeing how well another Package Concierge® system functioned in nearby Stamford, the property manager took a well-researched leap of faith and purchased the system for themselves. They now successfully manage over 60 packages a day without a hitch.
For Cambridge, the increased efficiency in package management allowed their leasing managers more hours in the day to focus on their tasks that matter most: managing the property and ensuring resident services are running smoothly. It also added peace of mind for the student residents who could prioritize their studies and social activities instead of being distracted by that nagging paranoia their packages won't be there when they return home.
How Chelsea Place Made An Impact
Chelsea Place, a student apartment building in Boston, faced a similar dilemma. They knew package management would present some challenges since they had high student occupancy but no full-time management staff. After enlisting the Package Concierge® locker system, they now receive their daily packages with no issues. If a resident is out of town, they don't have to worry about their valuables being safe and secure, and they know it will be available when they return.
Their property manager, Sara Young, put it like this: "We love it! From day one, Package Concierge® has solved our package dilemma. Delivery carriers, including UPS, FedEx and the USPS love the system and our residents have never been happier. The system is extremely easy to use for residents and management. The registration process is simple and everyone at Package Concierge® has been so helpful during the installation and registration process. Every property should have a Package Concierge® system."
Hub on Campus Elevated their Look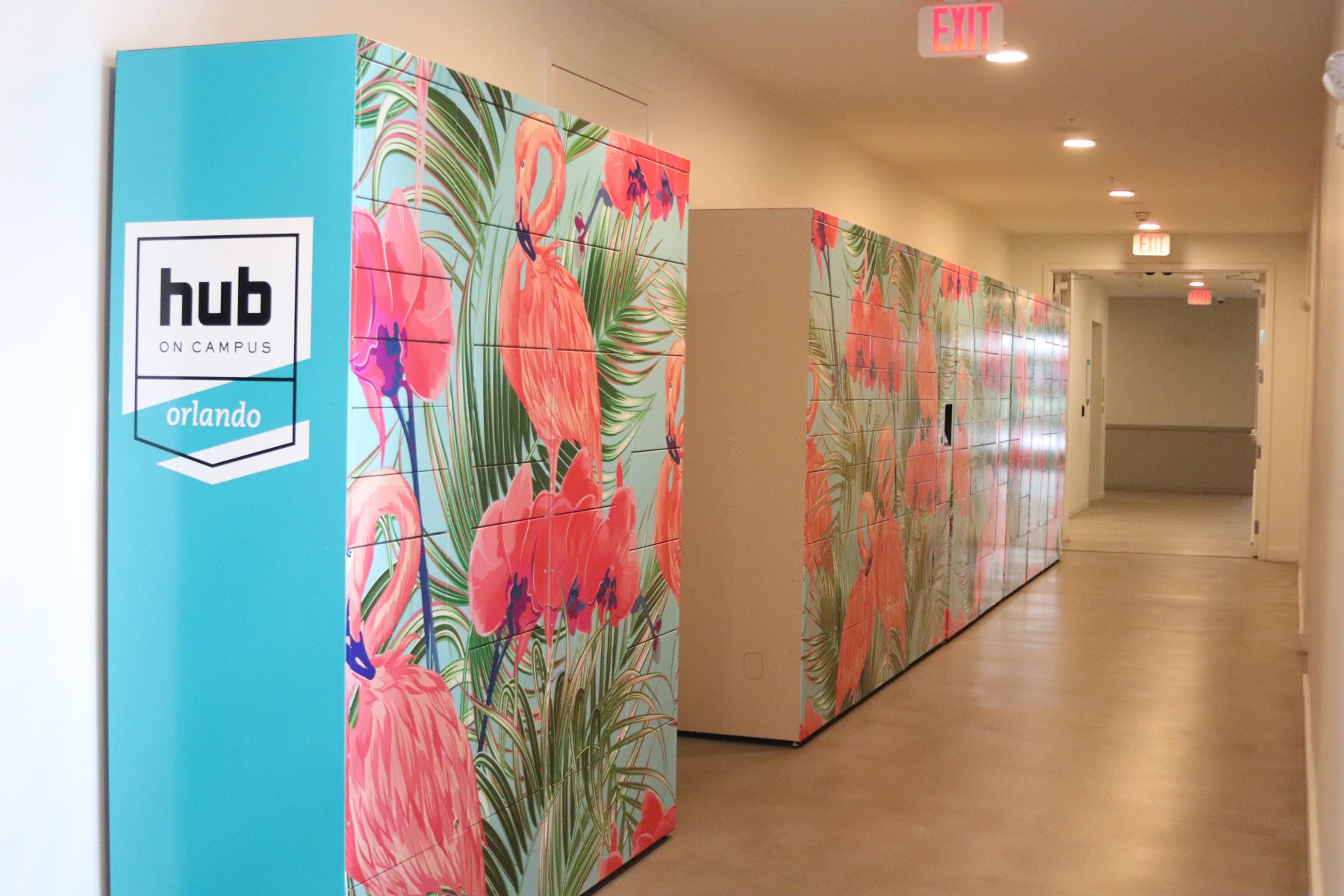 While many of the Hub on Campus locations have installed Package Concierge® locker systems, Orlando was one of the first to "dress" their installation up. Fitting the vibe of their student housing community, the Orlando Hub on Campus location wrapped their smart package locker installation in Pink Flamingos, highlighting their branding and images from around the location. By elevating the look of their smart locker system, they were able to dress up an otherwise drab hallway and make retrieving packages a more exciting experience for their students.
Onsite property team members have also proudly exclaimed that their elevated locker look is the envy of all the Hub on Campus properties. When they have team meetings and other staff members from the other locations are at the Orlando site, they often comment on the impact the wrapped lockers make. To add your own branded flair to a locker installation, simply add it to the order process, select your art, provide the proof and it will be applied to the lockers once they are installed.
Reducing Staff Involvement at the Lorenzo
The Lorenzo in Los Angeles houses over 3,000 student residents and must manage over 500 packages a day – something that used to take a dedicated staff member all day to handle. That many packages also meant that students had to wait in long lines at residential services just to pick up their packages – something that was often difficult with their tight class schedule. Once the Lorenzo added their large Package Concierge® locker system to their location, the onsite staff was able to pivot their attention to other resident needs, and students are able retrieve their packages conveniently 24/7 without standing in long lines. Students have commented how it makes a great study break at 2 am to run down to the lockers and retrieve a package!
The Lorenzo Package Manager, Edie, shared in this video how the Package Concierge® locker system changed the way he was able to service his student residents and how he "wouldn't even think about going back to a manual process." The four systems installed in a single hallway, automatically send the students a notification once their package has been delivered. Using the barcode provided in the notification, students can then retrieve their packages when it is convenient for them.
Is your university encountering comparable problems? Are you ready to put them to rest? There is no time like the present to prepare for student residents by adding automated self-serve locker solutions! Explore Package Concierge® solutions or contact us to discuss your installation options today.